Hydrotherapy:  from the Greek meaning, quite literally 'water healing'.  Hydrotherapy is reduced impact exercise; the buoyancy of the water creates an environment which helps to relieve stiffness and pain and supports weak joints.  The water offers stress free support for joints and muscles and allows increased range of movement within the joints.  Warm water helps with pain relief and promotes vasodilation, increasing blood flow to muscles and joints.  Hydrotherapy helps to restore and maintain muscle tissue and improve circulation and cardiovascular fitness.

Hydrotherapy has specific therapeutic effects on body tissues:
~ Relief of pain, swelling & stiffness ~ Muscle strengthening & maintenance ~ Alleviating muscle spasm ~ Increased range of motion in joints ~ Improved circulation ~ Cardiovascular fitness (heart & lungs) ~ Increased tissue healing ~ Increased speed of recovery ~ Gait modification ~ Increased proprioception

Any animal that requires improvements in: Core strength, proprioception, gait modification, flexion, extension, muscle bulk, cardiovascular and muscle endurance will benefit from hydrotherapy, including those with:-
~ Developmental conditions ~ Hip & Elbow dysplasia ~ Patella Luxation ~ Pre & Post surgical Conditions ~ Spinal injury/Trauma/Shock ~ Muscle strains/sprains ~ Obesity (weight loss in conjunction with diet)
……..and many, many others.

Hydrotherapy usually consists of either swimming in a hydrotherapy pool under the supervision of a qualified hydrotherapist or,  use of an underwater treadmill under the supervision of a qualified hydrotherapist.  Hydrotherapists require a vet approval form to be completed before hydrotherapy treatment can commence and your vet or veterinary specialist will advise which type of hydrotherapy (swimming or treadmill) is most suitable for your animal's condition.  Some insurance companies will cover (or partially cover) the cost of hydrotherapy treatment.

Hydrotherapy is not just about healing, many hydrotherapists also offer 'fun swim' sessions for dogs and puppies.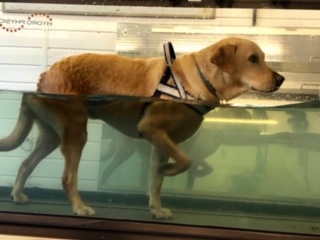 Credits :- Rupert using hydrotherapy pool
Nicola Davis, Canine Hydrotherapy Training and Scent work
Rozel Stables, Stapleford Lane, Southampton SO32 2BU. 07879 774746
Boris using underwater treadmill :-
Rebecca Atherton-Gates, Canine Plus Hydrotherapy and Rehabilitation
95 HIgh Street, Lee On the Solent, Hampshire. PO13 9BU 02392 556080